NCAA Football 12 was released on July 12, 2011. The initial blogs and information surrounding the game centered on the franchise's focus on team specific traditions and details; namely authentic team entrances including some animal and vehicle related aspects. NCAA Football saw the addition of several long-standing community requests, including Coaching Carousel and Custom Playbooks; however, with EA's ambitious feature set also came numerous bugs and complaints.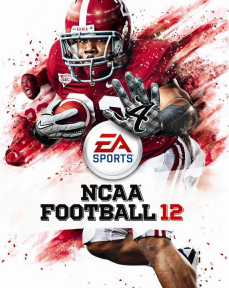 The Coaching Carousel feature would allow users to begin their career (Dynasty) as either a Head Coach, Offensive Coordinator, or Defensive Coordinator with the opportunity to move up the coaching ranks by achieveing contract goals - or risk landing on the hot seat (or being fired) if they failed their goals.
Custom Playbooks allowed users to play games with the plays and formations they wanted, no longer hand-cuffed to the limitations of an individual school's playbook. Custom Playbooks were usable throughout the game - in Play Now games, Dynasty Mode, and also Online.
A revamped and in-depth Custom Conferences feature allowed users to rearrange the make-up of conferences without the 'one-for-one' swap of years past. Options within the mode allowed for establishing or eliminating conference divisions (and renaming said divisions), the week conference games begin, weekday games for the conference, an option for night games in November, and also the ability to set protected rivalries.
However, perhaps the biggest area of improvement in NCAA Football 12 belonged to gameplay. Among the many changes: the elimination of suction tackles/blocks, a new tackle button, improved zone coverage, and a new collision based system. The changes helped improve game realism and the way people played the game.
Despite the bevy of new features and many addressing community requests, it seemed that almost every game mode/feature had some sort of issue, ranging from annoyances to virtual mode-breakers. Custom Playbooks saw the (later patched) zero-play bug as well as issues connecting online when loaded, incorrect player tendencies within Dynasty Mode, play-calling and asset-loading issues within Road to Glory, scheduling issues within Custom Conferences, sound overlap between game audio and Stadium Sounds files, and worst of all - numerous Online Dynasties fell prey to the dreaded "Transfer Failed" issue.
Even with the multitude of new features and additions to NCAA Football 12, these issues would dampen the experience - to at least some degree - for many within the NCAA Football community.
For the full list of improvements and upgrades made to the game, re-visit our
NCAA Football 12 Information Central page
.
The cover athlete for NCAA Football 12 was decided by fan voting. Cover candidates included Auburn's Nick Fairley, Alabama's Mark Ingram, Washington's Jake Locker, and Oklahoma's DeMarco Murray. Upon completion of fan voting, Ingram - the 2009 Heisman Trophy winner - was named the winner.
"Back of the Box" Features
-
Pick Your Path to Glory
: Experience the pageantry of gameday Saturday as you go from high school superstar to top college player to head coach. With new traditions and an all-new tackling system, make an impact with NCAA Football 12.
- Fight to keep your starting job and earn your coaches' trust to unlock extra abilities.
- Feel the true emotion of college football with new, authentic pre-game traditions.
Top Teams
99: Alabama, Oklahoma
95: Ohio State, Oregon, Stanford
94: Florida State, LSU, Miami, South Carolina
According to VG Chartz, the game would go on to sell 921,265 copies for X-Box 360 and 757,583 on PlayStation 3. The game would finish with metacritic scores of 82 on both X-Box 360 and PS3.
Recap: