This is the third part in a series looking at the NCAA Football franchise as we enter the seventh year of NCAA Football on the next-gen consoles.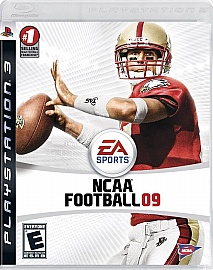 In July of 2008, the NCAA Football franchise would take a major leap, perhaps the biggest single year improvement in the history of the franchise to date.
In a rare move for the video game industry, on April 1 – almost three and a half months before release – EA SPORTS shared every game feature with the community. The items were not explained in any detail, but that was the first time NCAA Football community members would learn of the addition of Online Dynasty, the feature that would help change the face of the franchise forever. Not only would it prove successful for the series, but it would become a feature highly requested in other sports franchises due to its success. It began a shift of moving the franchise from just a game to an experience. Being able to complete in a Dynasty with friends from around the country opened up new avenues of game discussion, bragging, and camaraderie.
The game also featured significant changes and improvements to the on-field action, marketed as "Wide-Open Gameplay." After two years of next-gen NCAA being deemed sluggish and lacking the big-play potential of the last-gen counterpart, NCAA 09 was quite the opposite. The new Breakaway Engine allowed users to string together moves like a stutter step into a spin or hurdle before making a cut. While there was also a new tackling system in place, the game undoubtedly favored the offense. So much so, that despite the numerous features and improvement across the board some preferred to play the more balanced NCAA Football 08.
Each year, fans of the NCAA Football franchise wait patiently (well, some more than others) for a named roster file before digging into Dynasty Mode. NCAA 09 saw the introduction of online roster-file sharing with EA Locker, which allowed users to post created roster files and share them with the community.
The game also sought to capture the intensity and atmosphere of college football by adding in Home-Field Advantage, Ice the Kicker, and Quarterback Quiz. In addition, the game also implemented the Custom Stadium Sounds feature, allowing users to customize the music and sounds of their school's stadium in-game. This feature spawned significant community interaction and development as users uploaded and shared their own 'sound packs' at their community site of choice.
NCAA Football 09 also featured a new tradition with each version of the game featuring a different cover athlete. The console version and cover athlete: X-Box 360: Arkansas RB Darren McFadden, PlayStation 3: Boston College QB Matt Ryan, PlayStation 2: Cal WR DeSean Jackson, PlayStation Portable: West Virginia FB Owen Schmitt, Wii: Michigan State mascot Sparty.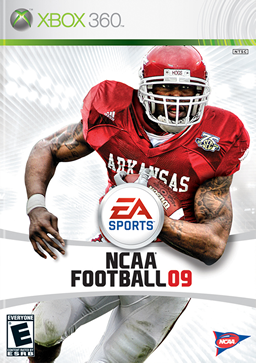 "Back of the Box" Features:
-
Authentic College Football Gameplay
: With huge cut-back lanes, exclusive tackle animations, over-pursuing defenders, and downfield pump fakes, the college game has never felt more wide-open.
-
All-New Online Dynasty Mode
: Develop your program as you schedule your opponents and recruit head-to-head online with up to 11 other players for 60 seasons with the same ease and flexibility of managing a fantasy football league.
-
All-New Breakaway Engine
: Break in and out of jukes, stiff arms, spins, and more in a swift, fluid motion, or use the left stick to steer a player in any direction mid-move.
-
All-New Mascot Play
: Experience the pageantry of college football Saturdays by celebrating touchdowns with your mascots or head directly onto the field in Mascot Mash Up mode.
-
The New Home Field Advantage
: Help your QB regain his composure by taking the Quarterback Quiz, call a timeout to Ice the Kicker, or pump up the home crowd to make your stadium one of the nation's toughest venues.
-
The Ultimate College Football Experience
: With all-new Formation Audibles, Smart Routes, online roster-file sharing, in-game custom music, and new mini-games like HORSE and Special Teams Challenge, this is the college game fans have been waiting for.
Top Teams
:
99 OVR: Georgia, Ohio State
96 OVR: Oklahoma
94 OVR: Florida, Florida State, Missouri, USC
91 OVR: LSU, Penn State
Top Players
:
99 OVR: Florida QB #15, Ohio State MLB #33
98 OVR: USC MLB #58
97 OVR: Alabama LT #71, Florida State SS #3, Missouri QB #10, Ohio State HB #28, Oklahoma LG #72, Ole Miss LT #74, South Carolina MLB #52, West Virginia QB #5,
The game would go on to sell approximately 720,000 copies for the X-Box 360 and 530,000 on the PlayStation 3 and have metacritic scores of 83 (360) and 81 (PS3).
Recap:
A Look Back at NCAA Football 07
A Look Back at NCAA Football 08
A Look Back at NCAA Football 09
A Look Back at NCAA Football 10
A Look Back at NCAA Football 11