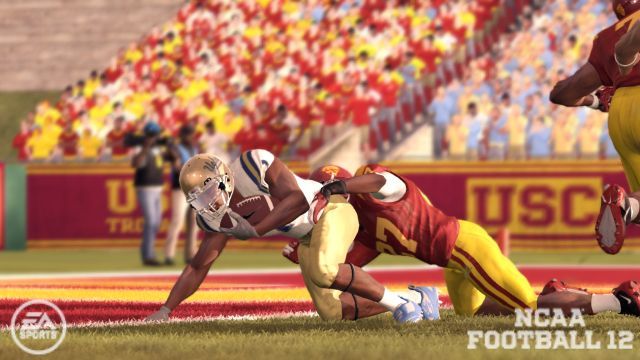 This year, the third annual NCAA Football Community Wish List Tournament sees several changes made at the request of the community to help further highlight the top community requests for each major game area. The tournament will be held in four different areas of focus: Gameplay, Online Dynasty, Presentation & In-game Atmosphere, and Features/Other.
While there is no guarantee the winning items will appear in NCAA Football 13, the development team has stated in the past that they follow the tournament and strong showing by particular items have helped get them into the franchise.
Continue on to learn more about the Tournament and to vote and submit your ideas for upcoming brackets.
While the numbers behind the vote may be most visible on the surface, the most important aspect is your (the community) opinions on each aspect – and not just the item you are voting for. With each item, state which aspects you would like to see in the game and how you would like to see it implemented. For example, perhaps you really want to see a Special Teams Overhaul but not necessarily a new Kick Meter. Share your thoughts on individual aspects as well as the features up for voting. The tournament field will be unveiled and conducted one bracket at a time. Each field is populated with the most oft-requested features in wish lists and threads from around the community, from sites such as The Gaming Tailgate, Operation Sports, pastapadre, My Madden Pad, Madden Matrix, Thru the Uprights, Tradition Sports and the EA Forums to name a few.
While NCAA Football 12 has had its share of issues post-release, we enter the tournament with the expectation that these items will be fixed in post-release support of NCAA Football 12 and/or as part of NCAA Football 13. Any off-topic posts will be moved or deleted. The goal of the Wish List Tournament is to allow the community an outlet to share their thoughts on their most requested NCAA Football features. Vote and let your opinion be heard!
Gameplay - Voting Now Underway
View
completed match-ups for Dynasty Mode, Presentation, and Features/Other here
.