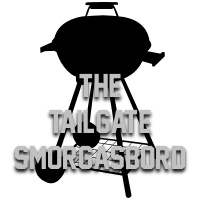 Like a buffet, The Tailgate Smorgasbord will bring you odds and ends giving you a little bit of everything.
On the
NCAA Football 12
information front, Erin Andrews is in studio today to record new lines for this year's game.
Erin said
, "NCAA Football 2012 is sounding gooooood!!" The question is, does this mean that she's in to record new lines for her portion of the 'Road to Glory' mode or is she going to be a larger part of the broadcast crew in NCAA Football 12? Let us know what you think in the comments.
Click here for a picture of her in the studio
.
The first week's worth of 25 new plays coming to
NCAA Football 12
is completed. To discuss the new offensive plays,
go here
. To discuss the new defensive plays,
go here
.
Last week
Kotaku reported
that
EA SPORTS
will no longer be shipping physical paper manuals with their titles; instead, the manual will be available in-game. The first of their titles to do so was Fight Night Champion... the question is to you, do you read the manual? Will you miss them?
Today EA SPORTS unveiled their plans for the
Madden NFL Football 12
cover athlete. This year, instead of the vote being a selection of only three candidates, they are taking notes from college basketball and going with a March Madness style tournament featuring a candidate from each team. Among the candidates are Drew Brees, Michael Vick, Maurice Jones-Drew, Adrian Peterson, and Julius Peppers. Voting is already underway so go to
http://www.ESPN.com/MaddenVote
to cast your vote; the first round continues through March 27th with the final two pairing off from April 18th to April 26th.
With the first two rounds of the NCAA Basketball tournament completed, Hawkfan leads
The Gaming Tailgate's pickem group
. Good luck the rest of the way to everybody.