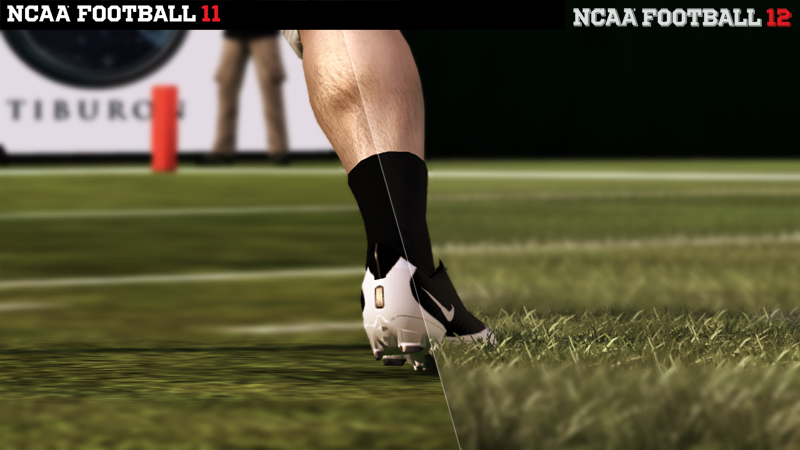 EA SPORTS has posted a new blog and video
featuring Art Director Jean Adams & Designer Ben Haumiller discussing some of the significant visual upgrades coming to NCAA Football 12.
Continue on to read the full blog from Jean and to see the video showing off the improved game visuals. After viewing the video & reading the blog, share your thoughts with The Gaming Tailgate community!
Jean Adams here, Art Director for NCAA Football. Iím very excited to be bringing you the first blog for NCAA Football 12! Weíve been working on some killer visual upgrades and I am glad that we can finally start sharing them with the community. Iím also exited because I think fans of the ďThe photographic side of NCAAĒ will really appreciate these visual upgrades. Iím constantly amazed at how your feedback has taken our game and turned it in to a work of art as we continue to make shots look even more amazing in NCAA Football 12. Anyways, letís get to the good stuff.

The NCAA Football 12 development team thinks itís important that the game feel fresh and new, straight out of the box. NCAA Football 11 received a much needed visual upgrade in the form of linear lighting and we wanted to build on that momentum in NCAA Football 12. We felt the next step was to implement something that not only made the game look great, but also brought some life in how the game is rendered. It had to be something that immersed players in the college football atmosphere (Iíll explain why I think this is immersive later).

Itís because of this goal that we thought HDR rendering would be a good focal point. Without getting too technical, HDR (High Dynamic Range Rendering) is a way of rendering bright and dark parts of the game while still maintaining a high level of detail. It allows us to preserve contrast without losing the details that make the game look realistic. We also wanted to address how the game looks when being played under shadows. In previous versions, playing in the shadows made gameplay appear dark and muddy, which really killed the quality of our game. This was especially noticeable when playing in huge stadiums like The Swamp or Death Valley, where at certain times of the day shadows cover most of the field making action hard to see. Previously, we had to sacrifice contrast to maintain brightness on the shadow side, but Iím getting way too technical so let me show you the first screenshot of NCAA Football 12.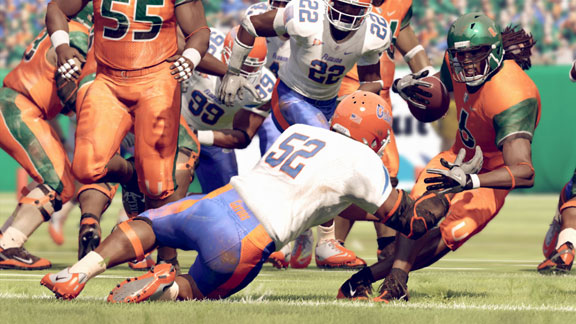 While you may think those images look good, screenshots donít do justice to the impact HDR brings to every aspect of our game, so letís take a look at HDR in action.




After seeing that, I hope the photogs out there are salivating at the thought of what screenshots they will be able to take once they get their hands on this yearís game.

The improvements donít end with HDR and Dynamic Exposure. As you can see in the screenshots, we have added a lot of other eye candy to the game. Dreadlocks, Higher resolution crowds and new gear are featured here, but what stands out the most is the addition of 3-Dimensonal grass and particles. The field surface has looked like a tennis court for way too long, with the addition of 3D grass our game looks more photo realistic and immersive.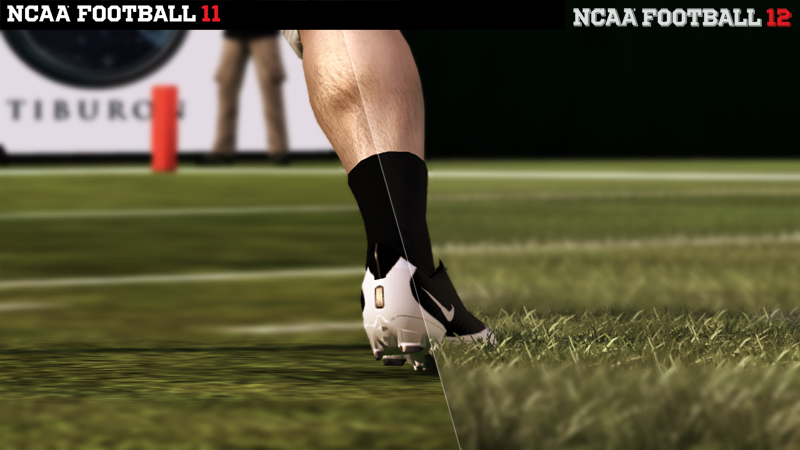 This is just a glimpse of some of the visual upgrades for NCAA Football 12. Stay tuned for the next blog revealing more enhancements and innovations for this yearís installment of the NCAA Football franchise.

Jean Adams

Art Director

Latest images (

click here for more

)