Another game update is now available for Madden NFL 20. This update builds upon the
previous September game update
in correcting game issues, most notably using the standard 'general stability and connectivity improvements' terminology.
The most notable change is the addition of Colts WR T.Y. Hilton as a Superstar X-Factor to replace the recently retired Andrew Luck. Hilton will possess the RAC 'em Up, Double Move Elite, and Route Technician abilities. It is worth noting that this upgrade will not be included in existing Franchises; it will only occur in Franchises created after this game update.
Continue on to see the blog from EA SPORTS detailing this game update.
To ensure Madden is the best game possible, scheduled updates are deployed by the Madden Development Team to add features to the game after launch and to tune gameplay based on community feedback. Our launch updates focus on many of the issues that Madden players report to us. We thank you for your feedback - you've helped us improve Madden NFL 20. We look forward to further feedback and are committed to continuing to meet your expectations.
Here is a detailed breakdown of what's included in today's title update.
Key Highlights
Colts WR TY Hilton has been upgraded to a Superstar X-Factor to replace former Colts QB Andrew Luck, who recently retired. Here's a quick breakdown of TY Hilton's abilities:


RAC 'em Up - When in the zone, wins RAC catches vs. single coverage
Double Move Elite - Higher chance of success when running double-move routes
Route Technician - Quicker cuts while running routes
DEV NOTE: These X-Factor updates will only impact franchises created after today's update when using the 'Custom Roster' option when creating the league; these changes will not impact existing Franchises.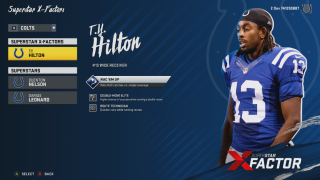 Global Updates
General stability and connectivity improvements
Gameplay Updates
Fixed issues with the 'Backfield Master,' 'Backfield Mismatch,' and 'Matchup Nightmare" abilities
Fixed a QB Scramble bug when hot routing on PA Zone Fake Jet


DEV NOTE: In our previous title update, we mentioned that we fixed a similar issue. There were two cases that caused the QB to enter a bad state, and the previous update only fixed one of those cases. This will fix the other known case, which is specific to the PA Zone Fake Jet set-up.
Madden Ultimate Team Updates
Fixed an issue causing unreadable text to appear in the 'Seasons Progress' bar after losing a MUT Seasons game
Fixed an issue causing the Mission List to be cut off when having too many items present in the MUT Hub
Superstar KO
General stability improvements