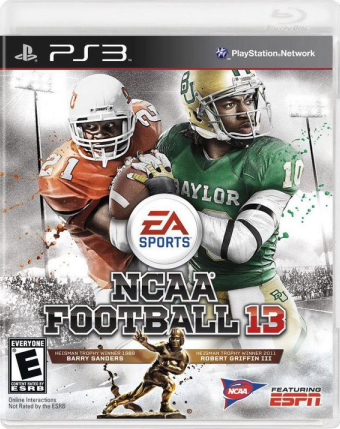 Official Website
:
http://www.ea.com/ncaa-football
Game Description
: NCAA Football 13 continues the rich tradition and pageantry of gameday Saturday. Storm out of the tunnel with your favorite team and build a national powerhouse as you fight for your chance to win the National Championship. Make your mark and lead your team to glory with NCAA Football 13.
Cover Athletes
: Baylor QB Robert Griffin III and 1988 Heisman Trophy Winner Barry Sanders.
When does NCAA Football 13 come out?
The release date for NCAA Football 13 is July 10, 2012. If you are a member of the
EA SPORTS Season Ticket program
, you can download the game on July 6.
Available Consoles
: X-Box 360 & Playstation 3.
Pre-order Bonuses:
Amazon (360|PS3): 5 Nike Pro Combat Downloadable Uniforms - Army, Georgia, Oklahoma State, Oregon, & Michigan State (Pic)
Best Buy: Five Star Quarterback for Road to Glory
GameStop: Heisman Challenge 3-Player Pack of Mark Ingram, Tim Tebow and Matt Leinart
Wal-Mart: Prima Digital Mini Guide
Pre-order Deals:
Demo Information:
Currently available on X-Box Live & PlayStation Network. The demo features one Heisman Challenge match-up (of co-cover athlete Robert Griffin III) and several match-ups from Week 10: USC-Oregon, LSU-Alabama, Kansas State vs. Baylor. All match-ups consist of four three-minute quarters with Studio Updates, however the Heisman Challenge game features four five-minute quarters with defense supersimmed. Playing through the demo will unlock WR Tim Brown, RB Archie Griffin, and QB Jim Plunkett for use in Heisman Challenge in retail version. Sharing the demo with a friend will unlock five Nike Pro-Combat uniforms for use in the retail version of the game: LSU, Navy, Stanford, Boise State, Ohio State. (
Pic
)
Announced Features and Improvements (PS3/360)
:
Gameplay
Newly approved kickoff rule changes - Starting 2012, teams will kick off at the 35-yard line instead of the 30. Also, touchbacks on free kicks will be moved to the 25-yard line instead of the 20 to encourage more touchbacks. Touchbacks on other plays (for example, punts that go into the end zone, or fumbles that go out of the end zone) will remain at the 20-yard line.
All-new Pump Fake
All-new Shovel Pass
New Dropbacks (20+ new animations)
New Play-Action Abort Fake
New Play-Action Pick Up Blitz
Throw on the Run Animations: QBs can throw on run without setting up, but throws are more difficult across their body
Total Control Passing Mechanic: Multiple Pass Trajectories (20+ new; new zones/ball speeds); Added control with left stick
Receiver Route Awareness: Icons dim at snap, lit up when receivers looking/able to make the catch
430+ New Catch Animations
Enhanced Option Pitch
Improved Punt Coverage
Read & React Defenders: Both offensive and defensive players "have to see [the ball] before they can make a play on the ball." (No more 'Psychic DBs')
Dynasty
Online Dynasty Live Dashboard - New behind the scenes technology for dev team to assess, repair, or prevent "Transfer Failed" issues in Online Dynasty.
Dynamic Pitches - Some pitches change on a weekly basis. (New pitch: Playing Style, based upon stats and on-field performance.)
Scouting - Actual ratings and overall revealed via scouting
Breaking into Top Ten - If other schools do not show interest, team can move onto board. Prospects start with fewer teams on board. Any team has a chance at every recruit.
Triple Threat Athletes - Athletes able to play two or three positions
Phone Call
Search Improvements - Faster & optimized
New "My School" Screen - Showing current recruiting pitch ratings
Changes to Player Transfers - New reasons for leaving: Playing Time, Broken Promises, Coach Leaving, Homesick. Try and keep players from leaving by offering recruits. Broken promises can hurt Coach Prestige. Improved transfer logic and number of transfers.
Website Improvements: New Scouting on the Web, Complete offseason and preseason on the web
ESPN Bottom Line Ticker (Priority Alerts, Upset Alerts, Final Alerts): Games happen in real-time, upcoming game preview
ESPN Studio Updates: Live updates in all four quarters, updates will show one to four games. Will highlight: General & Top 25, Upset alerts, BCS updates, big days for players. Hosted by ESPN's Rece Davis.
New game open will feature "live look-in" from Rece in-studio and then sending it out to Kirk and Brad.
Nessler will give 'game impact' discussion based on Studio Update from Rece
Heisman Challenge
16 former Heisman winners
One season on any team
Specific goals and accomplishments for each player
Reaction Time - new gameplay feature. LT/L2 during gameplay
Over 64 video interviews with the Heisman winners; unlocked as you play. Different stories for each player: game specific interviews, Heisman questions, Recruiting questions, Reflections on their Heisman year.
Compete on new Heisman leaderboards
Bonus unlockables if you win the Heisman
Exact look from their glory days
3D Modeled player heads
Retro style
Modeled after winning year
Load screen for game will give player facts and history
Over 40 specific goals per player
Improved playcalling: More passes for QBs, more rushes for RBs, more passes thrown to WRs
Road to Glory
Difficulty Levels - Each level effects Gameplay difficulty, Coach Trust Points and XP Points (Time until starter: Freshman - 5 weeks, Varsity - 8 weeks, AA - 13 weeks, Heisman - 18 weeks)
Kick Return (KR & PR) - Depth chart determines whether you return or not. Positions that can return: WR, S, HB, CB. New camera angles for returns.
Reaction Time: React to the play by slowing down time and outperforming your opponent. Left Trigger activates, react to the action, release to return.
Time Meter for Reaction Time: As you use it, your meter will drain. You auto get 20% of meter back after every play. Gain time back by completing good and great plays. (HS: 5 seconds, College: Awareness - Total Time. Cap: 10 seconds)
Reaction Time Progression: Can use boosts to improve. Top Skill Upgrade item only one that will give Reaction Time boost.
Unique cameras for each position
Tuning Update: Playcall - More plays focused on you, more playbooks in HS, better all around playcalling (More passing plays for QBs, more running plays for RBs, more passing plays for WRs)
Tuning Update: Recruiting Points - Harder to get Offensive Recruiting Points, Easier to get Defensive Recruiting Points
New Practice Features: Scouting Report - Learn everything about your opponent before you play them. Can play on scout team preparing team for upcoming week's foe.
Practice Facility: Offensive Field (Scout Team D & 1st Team Offense) & Defensive Field (Scout O & 1st Team Defense)
8 New High School Stadiums: Based on regions of US (11 total)
New Award System & Leaderboards: Goals (Position Specific Goals & New Point System) Records: School & NCAA Records
Leaderboards: All-American & Heisman, Varsity
Presentation
True Progressive Lighting
Motion Blur
New Generic Head Library: 100+ options
Broadcast Presentation 2.0: Incorporation of ESPN style graphics into Main Menu, new broadcast wipes (halftime, NCAA Football 20th Anniversary, ESPN College Football shield), ESPN replay wipe/transition.
Audio Improvements: New crowd mix (via ESPN and audio recorded from field), 24 new school specific chants.
Commentary Improvements: New non-linear system, new ad lib recording technique, new stitching techniques, more to be announced.
New trophy presentation & celebration cutscenes: rivalry, conference championship, bowl
New Practice Field
New stadiums: FAU, North Texas
Stadium Updates: East Carolina, Iowa State, North Carolina, Oklahoma State, Rice, Tulane, UL Monroe, Wake Forest, more to be announced.
More traditions: Purdue authentic entrance, Texas cheerleaders, USC song girls, Texas A&M's Reveille, WKU mascot Big Red, Oklahoma State Paddle fans, Army/Navy/Air Force/mascot parachutists, more trophies (Heroes Game, Big Ten Championship, etc.), more to be announced.
New/updated uniforms: Arizona State, Baylor, Kentucky, Maryland, UL Lafayette, more to be announced. Over 230 new uniform pieces.
Top 25:
Alabama
USC
LSU
Oregon
Oklahoma
Georgia
Arkansas
Florida State
Michigan
West Virginia
South Carolina
Michigan State
Kansas State
Clemson
Virginia Tech
Wisconsin
TCU
Ohio State
Nebraska
Stanford
Boise State
Texas
Oklahoma State
Notre Dame
Florida
Official Site News & Blogs
:
Official NCAA Football 13 Podcasts
NCAA Football 13 Playbook Webcasts
NCAA Football 13 Playbook 5 - Road to Glory (June 11)
Community and Media Articles & Interviews
:
Videos
:
NCAA Football 13 - Playbook #1: Sights and Sounds Teaser Video
NCAA Football 13 - Motion Blur
Machinima - IG Extended: NCAA Football 13
G4TV - NCAA Football 13 Presentation Preview
GTTV - NCAA Football 13 Gameplay Reveal: Passing Game Improvements
NCAA Football 13 - Gameplay Sizzle Video
G4TV - NCAA Football 13 Gameplay Preview
NCAA Football 13 Draft Night Premiere
NCAA Football 13 - Dynasty Trailer
NCAA Football 13 - Gameplay USC Intro with Rece Davis In Studio
NCAA Football 13 RAW Gameplay - USC vs Oregon - Part 2
NCAA Football 13 - Gameplay Clips feat. Maryland & Michigan
NCAA Football 13 - Heisman Challenge Trailer
NCAA Football 13 - FIRST LOOK at Scouting when you start your Dynasty
NCAA Football 13 - Trailer
NCAA Football 13 - Everything that's in the Demo
NCAA Football 13 at E3: SEE Gameplay of Doug Flutie in game
NCAA Football 13 at E3: SEE Gameplay of Desmond Howard in game
NCAA Football 13 CPU vs CPU Gameplay from E3 - West Virginia @ Texas
EA SPORTS NCAA Football 13: Gameplay Footage from E3 (USC vs. Akron) [Courtesy: Dynasty League Gaming]
NCAA Football 13 at E3: SEE Gameplay of Barry Sanders in game
NCAA Football 13 CPU vs CPU Gameplay from E3 - Georgia Tech vs Clemson
E3 2012: Whats new with NCAA Football 13? Producer Ben Haumiller Gives Us The Word [Courtesy: Konsole Kingz]
Producer Ben Haumiller discusses the NEW Studio Updates in NCAA Football 13
NCAA Football 13 at E3: Alabama at Oregon [Courtesy: MaddenMatrix.com]
NCAA Football 13 at E3: Maryland Terp Dynasty [Courtesy: MaddenMatrix.com]
NCAA Football 13 - Road to Glory Trailer
The Making of NCAA Football 13 - Character Animation & Design
The Making of NCAA Football 13 - New Passing Game
RAW Unedited Look at Dynasty Recruiting in NCAA Football 13