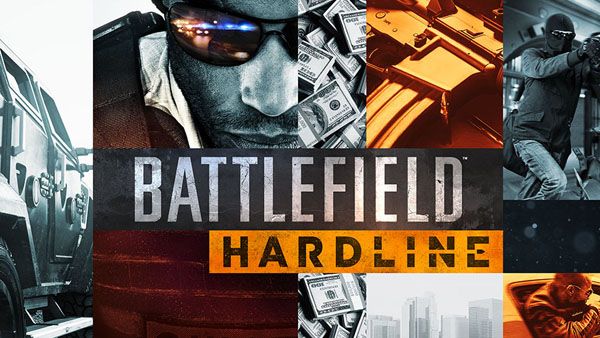 There have been rumblings for the past couple months that the next Battlefield game was going to shift away from the typical warfront and into the urban streets with a police theme. Those rumblings were confirmed earlier this week with a project that had a code name of Omaha. Battlefield: Hardline will be coming this fall with a further reveal to come at next month's E3 conference in Los Angeles. The Dead Space studio Visceral will handle the single player campaign; while DICE will handle the multiplayer aspect. A seven minute video was leaked ahead of this official announcement. Follow the break for our breakdown of what we have seen.
First off here is the leaked video via Gamespot:
BATTLEFIELD MULTIPLAYER
From the video, there seems to be even more of an emphasis on tactictal teamwork than in the past, and that will most likely be evident with the new game modes that were presented.
In this game mode, you wil either be a cop or a robber just like in the days of when you were a kid. The robbers will try to break into the vault and make out with a large sum of cash while the cops attempt to block every possible mode of escape. I'm assuming that the bank maps here will have multiple ways to escape and enter similar to the final Rush location in Siene Crossing from Battlefield 3.
This game mode brings me back to the old SOCOM days playing Extraction. Once again you can play as a cop who is trying to storm the building, locate the hostages and successfully extract them, or you can play as the robber who is trying to take down the cops to prevent them from pulling off the rescue. I wonder if the hostages can be shot like they could in SOCOM. That definitely would add a new dimension to the mode.
This mode definitely seems like the classic Need For Speed mode where you have to get from one point to the other in one piece. You're in a high speed chase to try to get from A to B if you're the robber, and as a cop, you're trying to destroy the robber's cars to prevent them from making it to the end. The video makes it sound like you're in a large open world, so maybe there are checkpoints or bags of cash that the robbers are trying to snag along the way. It'll be interesting to see if this mode will differ from the straightforward Need For Speed cops and robbers mode.
This mode sounds like the most fun out of the ones detailed in the video. There will be a huge stack of cash in the middle of a map with the cops on one end and the robbers on the other. It's basically a large scale tug-o-war with a hail of bullets. The objective here is to grab the cash in the middle and bring it back to your base. There have been some other games with a similar objective. Uncharted comes to mind, and I am wondering if the cash holder will be slowed down to make it even tougher to get back to your base with the moolah. I hope so as it adds to a different level of difficulty to succeed.
These modes were the only ones detailed in the video, but I'm assuming there will be the classic Battlefield game modes as well such as Deathmatch, Domination, and hopefully Rush.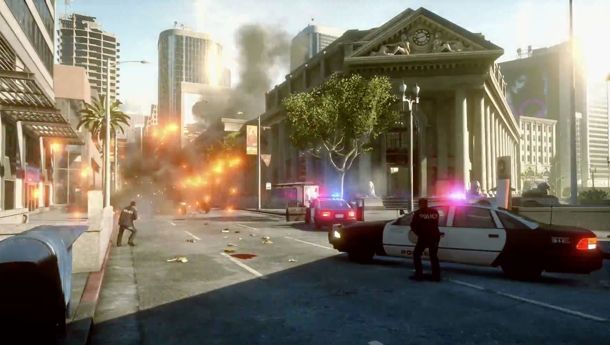 VISCERAL SINGLEPLAYER
The single player on most FPS games is always the afterthought as the main focus is on the multiplayer aspect. Battlefield is taking a different approach from their past games and they're bringing in the Visceral studio to develop the single player. Visceral is well known from the Dead Space series; which have had some great single player campaigns. The story will center around a young cop named Nick Mendoza who will have to try to balance and choose sides between good cop and bad cop. The video states that each level will play out like an episode on TV, and the style will be influenced from popular cop television shows.
The video also states that the environments will be wider and more open than ever before, and you can take various different paths to complete a mission. It makes me wonder if there will be some sort of open world aspect to the game where you can go off and do side missions as well. I'm guessing that it will be a typical linear story of a FPS, but an open world story would definitely be interesting for a Battlefield game. On top of this, the video also states that the AI has been built from the ground up to present more of a challenge.
DOWNTOWN DESTRUCTION
Assuming that they are using the much heralded Frostbite engine, Battfield: Hardline will be able to take advantage of this tech in multiple ways. The lifelike destruction of levels from this engine will be brought to the urban environments that are showcased in the game. The great thing about this engine is that the destruction can alter the map and alter your strategy along the way. The video states that there will be various environments such as a subterrainian grow lab, bank vaults, and car dealerships where this destruction can take place.
GADGETS & GUNS
Your typical miltary grade weapons will exist in this game as usual, but there are some different items that really are going to make things interesting. In the singleplayer game, Nick has a high tech police scanner that helps him gather clues and plot attacks during the missions. The scanner also helps you with your game style; whether it is run and gun, or if you want to be stealthy, it can help you plan your set-up on how to succeed. Tazers will be used as well, but they didn't specify it it would be in the singleplayer only story, or both. What was confirmed in multiplayer is the use of gadgets such as ziplines and grappling hooks. This is going to add a whole new dynamic to the gameplay of Battlefield online, and I'm really excited for those additions.
VEHICULAR MAYHEM
As always, vehicles play a huge part in the offline and online game modes for Battlefield: Hardline. Muscle cars, motorcycles, police cruisers, counter-attack trucks, boats, planes, and armed choppers will all be to your disposal.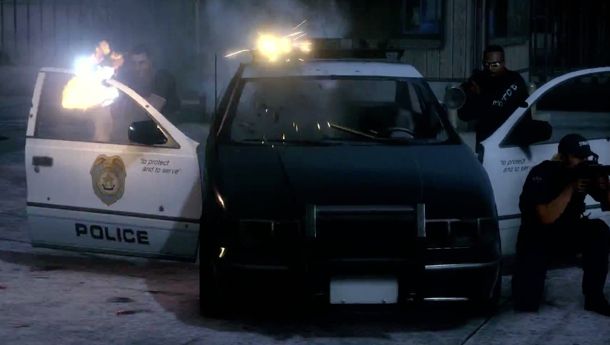 IN CONCLUSION
The end of the video touts that it's a new world with new levels of freedom and new ways to play. This is really an exciting statement for fans of the Battlefield franchise. A meaningful single player story will be nice as long as it is in-depth and fairly lenghty. That is the problem with a lot of stories in a FPS title, you can typically finish the story in almost one setting. With the PS4 and XBOX One in full swing now, the consumer's demand for a higher bar is completely realistic. There should be no excuse to have both a solid and deep single player to go with a top notch multiplayer. There will be more info in regards to Battlefield: Hardline at E3 coming up in just over a week. Stay tuned to The Gaming Tailgate for more information!