Screenshot of the NCAA Football 13 Uniform Store
NCAA Football 14 Developer Christian McLeod was recently a guest on the
GoodBullHunting.com
podcast discussing changes to NCAA Football 14, particularly those surrounding Texas A&M. As part of that conversation, at 14:20, McLeod was asked by the host, "Is the black alternate uniform something we might see in the full version of the game?". McLeod's answer was seemingly cut from the podcast.
Continue below for the rest of the article.
When asked about it in the comments
, the author replied: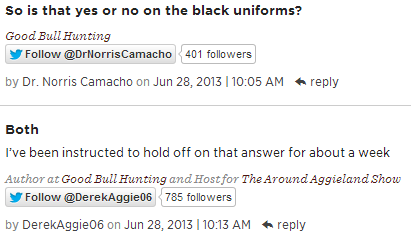 While that doesn't give a clear indication what to expect regarding the black uniforms, it does at least give us an indication that we can expect hear something regarding the first update to the Uniform Store by or during launch week.
The Texas A&M black uniforms were one of several uniforms noted to be missing from the E3 version of NCAA Football 14.
A video from KOACHK
at E3 showed all of the available preset uniform selections for each team.
We knew based on tweets during a Q&A session earlier this week that certain teams would be included in a Uniform Store update and that details would be available "soon".
When reached for comment, a representative of EA SPORTS answered:
"While we donít have anything to say right now, we should have more details to announce soon."
For those that didn't follow the game last year, the Uniform Store was added to NCAA Football 13 as a way for EA to be able to deliver uniforms that weren't able to be included with the disc. Last year, the Uniform Store was opened on 9/18 and included many uniforms as a free update but also included some available for purchase. It was updated a few other times throughout the year with additional uniforms for purchase that were unveiled as the college football season went on.
We'll continue to update you on the NCAA Football 14 Uniform Store as we get more details.
***
Keep up on all the latest NCAA Football 14 news & media heading into the July 9 release date with our
NCAA 14 News & Info Central page
. We'll provide all the best & latest information regarding improvements to Gameplay & Infinity Engine 2, Dynasty Mode, Presentation, and new features such as NCAA Football Ultimate Team & Play a Season.