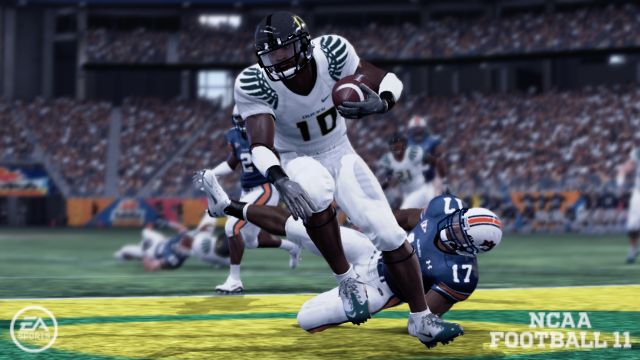 After a long season it has all come down to this - Oregon vs. Auburn for the BCS National Championship. Each team has faced adversity and struggles in their quest to head home with the title. Click Read More for the video preview and share your thoughts on this game in the comments below.
Oregon's up-tempo offense has done more than just "Win The Day," they have been a buzzsaw and helped the Ducks overcome slow starts in comeback victories against Arizona State, Washington State, USC and Stanford. The Cardinal led 21-3 in the first quarter before the Ducks soared to a 52-31 victory, while a missed Cal field goal helped the Ducks remain undefeated. Running back LaMichael James leads the Oregon offense with 22 total touchdowns and nearly 1,700 yards of total offense.
Auburn has had a flair for the dramatic as well with numerous comeback victories, highlighted by their 28-27 victory at Alabama in which the Tigers rallied from a 24-0 second quarter deficit. QB Cam Newton won the Heisman Trophy after an excellent season on the field (28 passing touchdowns, 20 rushing touchdowns) and overcoming speculation and rumors concerning his eligibility off the field.
Which team will end their dream season with a National Championship?