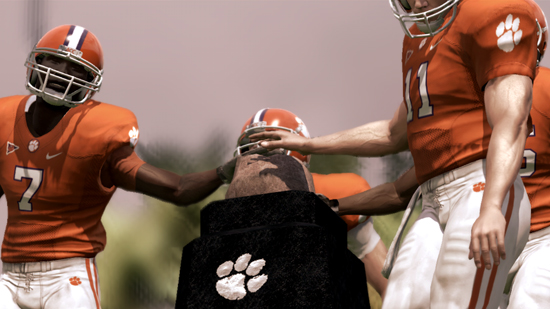 After drop-offs in early sales from 2009 to 2010 by the
Tiger Woods PGA Tour
and
UFC Undisputed
franchises, NCAA Football 11 did not suffer the same fate in its opening week. On the PlayStation 3 and X-Box 360, sales for NCAA Football 11 increased by just over three percent compared to NCAA Football 10.
On the same consoles, sales for UFC Undisputed 2010 dropped 30% in week one while Tiger Woods PGA Tour 11 fell a little over 3%. (TW 11 for the Wii decreased a staggering 83% in its first week.) In their first month on the market,
UFC Undisputed 2010 dropped 59%
compared to last year and
Tiger Woods PGA Tour 11 fell 68%
(all consoles).
The PlayStation 2 version of NCAA Football has been nothing short of a roster update and redesigned menus for several years and saw sales drop from 34,823 to 12,286. Produced because there has been a market for it plus low development cost for the studio, this low number may finally signal the end of development for the franchise on the PS2 - the same console where the franchise rose to prominence.
Last year, first week sales for NCAA Football 10 dropped significantly compared to 09. However, each week following saw an increase compared to the year before and the game was the highest selling next-gen version of the franchise. This would seem to indicate NCAA 10 fell victim to poor pre-release marketing and awareness (Madden 10 seemed to have more hype behind it), but rallied due to strong word of mouth.
In a further breakdown, sales on the X-Box 360 fell from 250,089 for NCAA Football 10 to 227,443 for NCAA Football 11. However, sales rose drastically for the second consecutive year for the PlayStation 3 version going from 149,787 for NCAA Football 10 to 185,156 for NCAA Football 11.
Why the huge drop in sales for UFC Undisputed & Tiger Woods Wii and minimal gains for Tiger Woods PS3/360 & NCAA Football? It's likely several factors.
As all developers and studios become more comfortable designing games for the 360 and PS3, gamers have more choices than ever before. Recently, THQ stated they believed that sales of Red Dead Redemption led to the drop suffered by UFC Undisputed. Some gamers may feel that they can no longer justify yearly purchases of sports titles. It could also be effects from the economy finally taking hold.
Unemployment reached 9%
in the spring of 2009 and has stayed at that point or higher ever since. Disposable income for many has decreased and yearly titles may be the first axed from their gaming purchases.
Unless linked, sales numbers in this article courtesy of vgchartz.com.