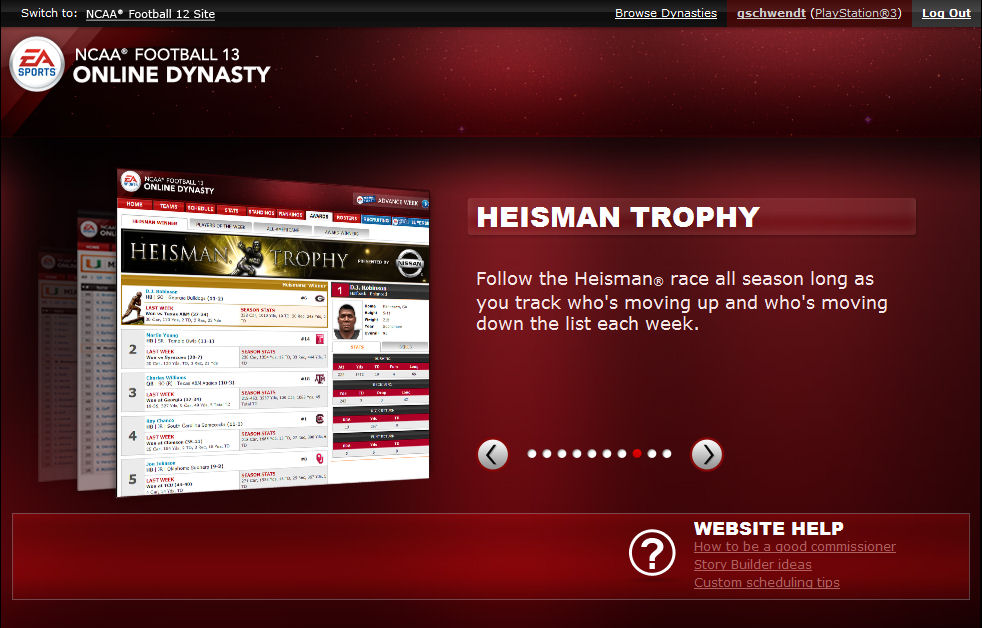 While it's been discussed previously, NCAA Football 13 will be receiving an update Dynasty Wire for use with Online Dynasty. The site has recently been found online (
http://www.easports.com/dynasty13/default
), however currently you'll not be able to access any of the features unless you have a copy of the game and are a member of an Online Dynasty. Seen below after the break, you can at least see some mock-ups of some of the new features including Scouting, Preseason/Offseason Duties, Heisman Trophy Race, Pipeline States, and Coaching Carousel. Additional to this, as we've previously reported, most of the major bugs that were present in the NCAA Football 12 Dynasty Wire should be corrected.
For those unfamiliar with Dynasty Wire, the website allows you to do much of what you can do on the console short of actually playing the game, and even that has a substitute. Things like recruiting, looking at stats, and game results allow you to stay in touch with what's going on with your dynasty without firing up the console. As well, Super Sim Online, the substitute for playing the game, allows you to do essentially everything you can in the game short of controlling the players; you're able to call plays and make substitutions and then see the results happen on your screen.
UPDATE

One change this year is that regarding the Advance from the Web feature. Added last year, this feature allows users to advance their Online Dynasty to the next week without having to boot up their console. While this feature was free last year, this year it is included with
Season Ticket
or available separately as a purchasable add-on. As described on the Season Ticket page, those that purchase Season Ticket will have access to not only play the game 3 days early, but also have access to premium web content from your computer; that web content this year includes both the Advance from the Web as well as Super Sim Online. We have confirmed though that those that don't subscribe to Season Ticket will be able to purchase this ability separately, however the price is unknown at this time.
Continue after the break for mock-ups and let us know what you think. Also be sure to check back on 7/6 at 6pm ET for a review of the new site.