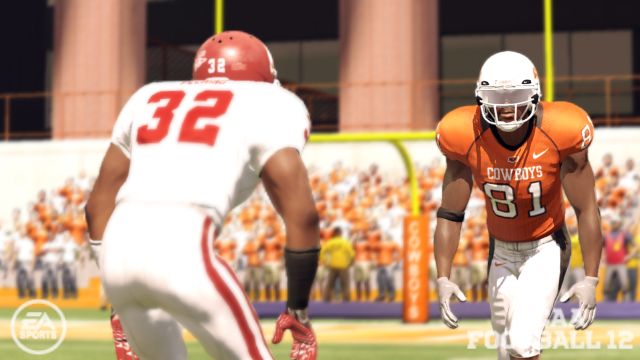 Each year, NCAA Football playbook designer Anthony White strives to make each team's playbook accurately represent their system and play style. Leading up to the release of NCAA Football each year, Anthony adds in actual plays run by teams that can only be found in their specific playbooks. With NCAA Football 12 adding Custom Playbooks, users can now add these team specific plays to their custom playbook.
Thanks to playbook guru Anthony White & producer Ben Haumiller, NCAA Football fans now have the full list of Team Specific Plays in NCAA Football 12. Of the Team Specific Plays in the game, which ones are your favorites to use? Are there any unique plays that your school is known for running and you would like to see in the game? If so, describe it in the comments or post a video of the play.
Conversely, are there any plays from the last-gen (PS2 & X-Box) versions of NCAA Football you would like to see return?
Post them in this thread
, started courtesy of community member
xMrHitStickx904
.
Continue on to see the full list of Team Specific Plays in the NCAA Football franchise.
Green indicates plays added in NCAA 12.
| | | | |
| --- | --- | --- | --- |
| Playbook Name | Formation Name | Set Name | Play Name |
| Akron | Ace | Spread | Zips Bubble Draw |
| Alabama | Pistol | Twin TE Slot | Bama Power |
| Arizona | Ace | Twin TE Slot | PA Zona Spot |
| Arizona State | Shotgun | ASU Split | Sun Devil Scat |
| Arkansas | Shotgun | Trio | Ark 77 Shark |
| Arkansas | Shotgun | Normal Flex | Ark HB Wheel |
| Auburn | Shotgun | Split Slot | PA Auburn |
| Auburn | Shotgun | Wildcat Tiger Trey | Fight Song |
| Auburn | Shotgun | Normal | Tiger Buck Sweep |
| Auburn | Shotgun | Split Slot | PA Tiger Wheel |
| Auburn | Shotgun | Split Slot | PA Tiger Pop |
| Boise State | Ace | Bunch | Statue |
| Clemson | Shotgun | Twin TE Flex | Tiger Screen |
| Colorado | Weak I | Twins | Colorado Sprint |
| Duke | Shotgun | Bunch HB Str | Durham |
| East Carolina | Shotgun | Spread Flex | 617 |
| Florida State | Shotgun | Bunch | FSU Bunch |
| Florida State | Pistol | 4WR Trio | FSU Scat |
| Florida State | Shotgun | Tight | Noles Bench |
| Florida State | Shotgun | Tight | Noles WR Screen |
| Hawaii | Shotgun | Trips Open Str | Warrior Curl Corner |
| Hawaii | Shotgun | Trips Open | Warrior Curl Corner |
| Hawaii | Shotgun | Trips Open Str | Warrior Flood |
| Hawaii | Shotgun | 5WR Trips | Warrior Levels |
| Hawaii | Shotgun | Trips | Warrior Outs |
| Hawaii | Shotgun | Trips Open Str | Warrior Switch |
| Hawaii | Shotgun | Trips Open | Warriors Switch |
| Idaho | Ace | Big Wing | Vandal 2Pt |
| Idaho | Ace | Trips | Vandal Flood |
| Idaho | Ace | Double Flex | Vandal Smash |
| Indiana | Shotgun | 5WR Flex Trio | Hoosier Smash |
| Indiana | Shotgun | 5WR Flex Trio | IU Drag Shake |
| Kentucky | I-Form | Twins | UK Fade Smash |
| Miami | Ace | Big | Canes Bubble |
| Miami | Ace | Big Flip | Canes Cross |
| Miami | Strong I | Normal | Canes FB Screen |
| Miami | Ace | Big | Canes TE Post |
| Miami | I-Form | Tackle Over | PA Canes Cross |
| Michigan State | Shotgun | 5WR Flex | MSU Fade Smash |
| Mid Tenn State | Shotgun | Trips Open | MTSU Switch |
| Minnesota | I-Form | Normal | PA Gopher |
| NC State | Shotgun | Normal Y-Flex | Wolfpack Drive |
| North Carolina | Ace | Big Twins | PA Heel Boot |
| North Carolina | Strong I | Normal | Heel Flood |
| North Carolina | Strong I | Twins | PA Heel Slide |
| North Carolina | Ace | Bunch | Tar Heel Flood |
| North Carolina | Ace | Bunch | Tar Heel Post |
| North Carolina | Ace | Bunch Base | Tar Heel Flood |
| North Carolina | Ace | Bunch Base | Off Tackle |
| North Carolina | Ace | Bunch Base | Tar Heel Post |
| North Carolina | Ace | Twin TE Slot | Tar Heel Stick |
| North Carolina | Ace | Slot | UNC Post |
| North Carolina | Ace | Twin TE Slot | UNC WR Corner |
| Northwestern | Shotgun | 5WR Trio | Wildcat Flood |
| Northwestern | Shotgun | 5WR Trio | Wildcat Spot |
| Ohio State | Shotgun | Normal Flex Wk | Buckeye Smash |
| Ohio State | Shotgun | Y-Trips | Buckeye Sprintout |
| Oklahoma State | Shotgun | Trips Open | Air Raid Under |
| Ole Miss | Shotgun | 4WR Trey | Rebel Drag |
| Oregon State | Weak I | Normal | Y Over Fly Sweep |
| Purdue | Shotgun | Bunch TE | Boiler Bunch |
| Purdue | Shotgun | Bunch TE | Boiler Mesh |
| Run and Shoot | Shotgun | Spread | Mustang |
| Syracuse | Shotgun | Wing Trio Wk | Cuse In |
| Syracuse | Shotgun | Wing Trio Wk | Cuse Middle |
| TCU | Shotgun | Ace Twins Wk | PA TCU Flood |
| Texas A&M | Shotgun | Tight Slots | Aggie |
| Wake Forest | I-Form | Normal | PA Deacon |
| Washington | Strong I | Y-Flex | Huskie Toss |
| West Virginia | Shotgun | Y-Trips | WVU HB Swing |
| West Virginia | Shotgun | Y-Trips | WVU Spacing |
| West Virginia | Shotgun | Trips | WVU Swing |
| Wisconsin | I-Form | Twin TE | Badger Zone |
| Wisconsin | I-Form | Twin TE | Badger Power |