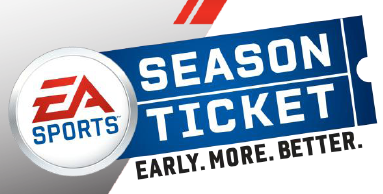 EA SPORTS is launching
EA SPORTS Season Ticket
, a new subscription based service that will allow members to download full games early, a discount on DLC, free premium web content, and membership recognition.
Available starting today in the X-Box Live Marketplace, PlayStation Network Store and exclusive North American retail partner GameStop, gamers can purchase a yearly membership for $24.99 (or 2000 MS Points) that will allow them to download full EA SPORTS titles over three days before the full retail release. The games confirmed to be part of the program at launch include: Madden NFL 12, FIFA 12, NHL 12, Tiger Woods PGA TOUR 13, and NCAA Football 13. More titles may be added at a later date, but NBA Jam: On Fire Edition is confirmed to
not
be part of the program.
Beginning at 6 PM ET on the Friday before retail release, gamers will be able to download the full version of participating EA SPORTS titles. This download will remain active with full online features (except Ultimate Team) until 6 AM ET on release day and at that point the download will expire. Gamers will then need to purchase the game at retail to continue their experience. All in-game achievements will carry over to the retail version of the game.
EA SPORTS Season Ticket subscribers will receive a 20% discount on
all
DLC, including Ultimate Team packs, accelerator packs, gear upgrades, and more. They will also receive free premium web content available for the duration of the subscription. For example, non-subscribers will have access to a basic version of the FIFA Creation Center while subscribers will have access to premium Creation Center packs. Subscribers will be given visible membership recognition in-game and also on their EASPORTS.com profile.
The subscription is valid for 12 months from the date of purchase. Should Madden NFL 13 return to its normal mid-August release date, an EA SPORTS Season Ticket subscription purchased in late August 2011 would allow subscribers early access to Madden NFL 12
and
Madden NFL 13. Online Pass is not required for EA SPORTS Season Ticket. All online features (except Ultimate Team) will be available for play during the early weekend download access. The program will be available on X-Box 360 (North America, Europe, Australia and New Zealand) and PlayStation 3 (North America).
There will be no change for gamers who do not become EA SPORTS Season Ticket subscribers as they will still be able to purchase the full retail version on launch day with full game features. The program exists for gamers who - as the program's tagline reads - wish to 'Play early, play more, and play better.'
What are your thoughts on the EA SPORTS Season Ticket program? Share your thoughts and feedback below.