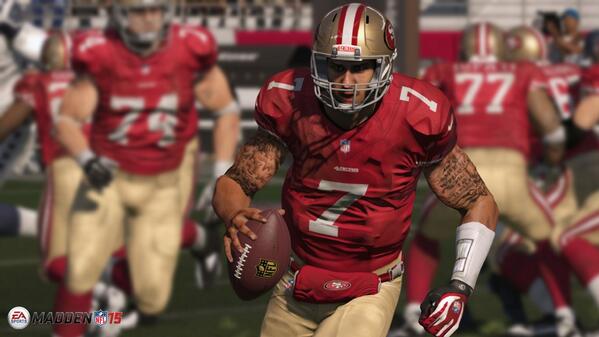 Hours after Colin Kaepernick signed a six-year, $110 million contract extension, EA SPORTS distributed the first Madden NFL 15 screenshot which featured the San Francisco quarterback. Most notable are his tattoos which indicates that Madden NFL 15 will feature them for the first time and also the scanned face of Kaepernick.
Several media sites
(Stealthy Box
and Operation Sports) have indicated more in-game screens of players are in their possession but currently embargoed. One possible guess is that they may be released when the cover athlete is announced this weekend.
UPDATE
-
From Polygon
:
For now, Kaepernick is the only player who will appear in Madden 15 with his authentic tattoos, because he's the only one who has obtained the permissions from the artists involved. "We want to do this with every player, frankly, and we're hopeful that more players over time actually go out and secure the rights so that we can use their tattoos as well," said Graddy.
For comparison's sake, here is a real life picture of Kaepernick's well-paid tattoos: